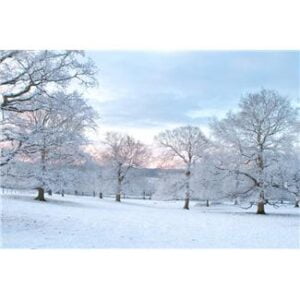 With the winter season approaching and snowflakes soon to fall, it is a good idea to winterize your lawn and garden. This is the key to having a lush, healthy lawn come springtime. The first step is to clean up leaves and debris.  You also want to have a look around and remove any plants that are not doing well, especially in areas of thicker vegetation and planting. This will make room for new bulbs or seedlings to grow. If you have bulbs that are only 2 or 3 inches below the surface, you should plant them a bit deeper—6 or 7 inches deep is ideal for winter.
If you want to move any plants, now is the time to do so, before the ground hardens. You may want to bring in any fragile plants. Note that you can continue to water your grass and outdoor plants and shrubs until the temperature reaches freezing.  And you should continue to mow the lawn until the first frost. After the final mowing, be sure to rake your lawn and remove all thatch. Don't forget to drain the gas tank of your mower before putting it away for the season.
You may want to aerate your garden now, which helps with compaction, or compressed grasses and soil. The compression limits oxygen getting to the roots, so aeration is the solution (this is what golf courses do to their grass).
Now is also the time to pull out weeds. If you use weed control products, do so carefully because you do not want to destroy plants and grasses that are nearby. If you have questions or need help selecting products, don't hesitate to contact us.  As an extra step to protect your lawn from extreme cold, you can apply potassium (just ask – we are happy to do this for you.)  You can also use a winterizing fertilizer, which comes in varieties with or without weed control.
To protect the root systems of your bulbs, rose bushes, trees and other shrubs, you should apply a fresh layer of mulch. It should be several inches thick and can even cover smaller plants. Give your trees and bushes a final pruning too, as they won't be trimmed again until the spring.
Another 'To Do' before winter sets in is to take care of dead patches. If you ignore a dead patch until spring, you could find that it got larger. So before the snow covers the ground, prepare the area using a hand rake or grass stitcher, then sew in a mix of winter and summer seeds. Believe it or not, the winter grasses will germinate. Your bare patch won't be bare when spring comes.
More tips on winterizing your lawn and winter maintenance for your garden can be obtained by speaking to a friendly representative at High Tech Landscapes. Call or come see us any time. 800 406 6420