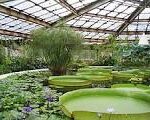 The art of winter gardening dates back to the 17th and 18th centuries when European nobility would construct large conservatories to house tropical and subtropical plants.  The conservatory would act as an extension of their living space. Many would be attached to the main homes (usually palaces). Early versions would have been constructed of masonry with large windows and a glass roof, usually in the Classical or Gothic styles. An online search will  reveal some lovely and inspiring pictures of winter gardens.
In the 19th century, a trend to build conservatories out of iron and curvilinear glass developed. Winter gardens were not just restricted to private residences though.  Many were built for the greater public.  The first large public winter garden was built in 1842-46 in Regent's Park in London and was used for evening occasions, large flower shows and social gatherings. Other winter gardens, such as The Crystal Palace by Sir Joseph Paxton (completed in 1851), were soon built and used for a variety of purposes. Back then, these large enclosed spaces full of flowers and greenery would have been something to behold!
Today, "a winter garden" is usually a reference to any garden planted to either bloom and flourish during the winter months in an enclosed space, or to remain visibly planted and slowly to develop, throughout the winter…tended to during colder months… to blossom in
the spring. Winter gardens typically contain plants that will serve as living decoration all winter. Today's winter garden might be in a greenhouse type of room or enclosure, or outdoors, exposed to the elements.
One basic premise in colder regions is that the plants may indeed become dormant when snow covers the ground, but will grow each time the sun heats at least part of the plant to
above freezing (snow or not), especially in regions where snow cover and below-freezing temperatures are not constant for months at a time. Amazingly, growth is happening even when the cold winds blow and the snow falls, and skies are grey.
In lieu of summer's blazing color, many gardeners brace themselves for a winter of gray
and brown, if not flat-out white, but that's not necessary. You can brighten your landscape with color in winter, by building covered window boxes or even a small greenhouse alongside the house. Now, keeping the right temperature in your greenhouse can be tricky. Ask your friendly landscaping and gardening professional about the Do's and Don'ts of having a greenhouse (just maybe that will appear as a future article).
You can actually have colorful pots that look nice all winter, to place near the house
in somewhat protected areas like the porch. Pots can be filled with heucheras, autumn fern, and sedums, for example. Place them close to a window where you can easily enjoy them from indoors.
The heuchera plants, also called coral bells or alum root, are especially hardy. They are a
semi-evergreen herbaceous perennial plant native to the United States.  Cultivate the plants for their colorful foliage and attractive flowers. (FYI, they work well as borders or in
flowerbeds, as well as in group plantings, as edges or as foundation plants.)
Building a green house may or may not be up your alley, but there are kits available that
make it fairly easy. And imagine having bursts of green and other colors on your winter landscape. You may find that you have a real knack for "Winter Gardening". Feel free to ask us about what plants are best for getting you started. We'll help you figure out how cold your plants and pots will get, and which plantings will give you what you desire.