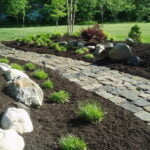 So you would like to improve your landscaping but you don't have thousands of dollars to spend. There are things you can do to improve your lawn and other landscaped areas around your home without breaking the bank. We give you several ideas here.
First—stop spending money on weed killers. Letting some weeds grow creates diversity, as well as giving bugs something else to eat besides your prize roses. Pull the weeds that are unattractive or have stickers or partners and let a few of them stay.  Many landscape experts believe that diversity in plant life maintains a healthier soil and lawn.
Have you heard the term, hardscaping? This refers to placing inanimate objects in your lawn and garden that look nice, take up space, but do not require watering, pruning, fertilizing, etc. In other words, once you have installed a stone walkway, a graveled area, some brick pavers, a fountain or a bird bath, that area will not need continuous labor and expense like green spaces do. So try a hardscape approach – ask your landscaper for ideas!
Get creative with your plant pots. New porcelain, resin, or terra cotta pots will cost you some dough. But you can look around your home and find old buckets, containers, tins, baskets and other 'discards' that, with a coat of paint (and if need be, a hole punched in the bottom) can be nifty plant holders!
Capturing rainwater is another way to save money that seems obvious but few people do it. Start today!
Purchase and install cheaper plants and shrubs. Your landscaping professional can tell you which plants and shrubs cost the least and which ones require the least amount of work and products to maintain. For example, a potted cactus surrounded by pea rock or mulch is a lot less expense than several plants and flowers planted in that same space.
Another way to save — trade cuttings with neighbors and other gardeners! Buy some 'root powder' to help the cuttings take root and grow.
Get the family involved – save time (and the money of paying a gardener) by having 'lawn and garden day' once a month at your house, and giving everyone a chore. Makes gardening and lawn care much more manageable and overwhelming when others chip in.
Wanna get some plants, trees and lawn décor for less? Keep an eye out for demolitions – often you can go to a property that's being demolished and get lawn and garden items for a fraction of their value. Check your local newspaper.
Last but not least, research online for your town's information regarding free supplies. Many cities give away trees, shrub, mulch, etc. – but they may not do a good job of promoting this fact. Call and ask or go on your city website.