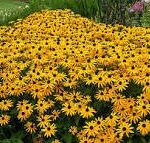 Did you know that 25% of Americans look forward to summer for
the sole purpose that they get to enjoy their beautiful surroundings outdoors? This is especially true for occupants of the northern states. So why not add to your enjoyment of your surroundings by enhancing your backyard or outdoor living space with some summer blooms?
There are many perennials that bloom during the summer and are
available right now. In this article we will discuss some of the easiest to
care for, which are full sun flowers. These flowers are common to your
neighborhood plant store. Why? Because, most people like low maintenance
plantings. Read below and be sure to brighten your summer days.
Daylilies
This awesome flower actually withers on a daily basis, but do
not be concerned! The next day another bright bloom will be replaced on the
same stalk, keeping the color consistent in the warmer months. There are
actually two different varieties of daylilies, as well. The yellow, pink, and
pastel colored blooms need full sun attention, while the darker colors (purples
and reds) need shade. They are also one of the more adaptable landscape plants
growing in zones all over the country. You really cannot go wrong with this
bright perennial.
Black-eyed Susans
You probably saw fields of these as a child, but what is great
about a Susan is that they can fill a space in a quick amount of time. Growing
over three feet tall, their yellow petals average about six inches long. The
perfect summer appearance, the black-eyed susan blooms from June to October. So
you can enjoy them all summer and into the fall. They are perfect along
driveways or walkways.
Shasta Daisies
Countless games of "he loves me/ he loves me not" took place
with these flowers as children. It is a classic addition to any backyard, and
just shouts "summertime". A fun fact is that daisies are actually said to be
America's favorite flower! Probably because they grow in full sun and bloom
year after year after year. If you plant these in your backyard, there's a bonus…you
will probably get even more pops of color. These unassuming flowers attract
butterflies!
Cranesbill Geraniums
There is great variety in the geranium family itself. These
flowers are most commonly used in rock and retaining walls. The way that they
grow looks like they are "spilling out" of the pot, soil, or nook or cranny.
The most common type is the salmon colored Wargrave Pink. They grow constantly
throughout the summer in most regions of the US. These flowers need almost no
care at all, and do well in semi-shade and sunlight. They can grow 18-24" tall
and are sure to attract the eye!
So there's your recipe for enjoyment of summer color and the
great outdoors. Head out to your favorite landscaping store and grab your
palette. You can't go wrong with low maintenance blooms like these…and visitors
to your home will enjoy the colors, too!