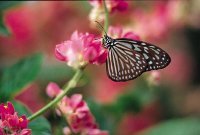 Butterflies are some of the most beautiful and interesting creatures. Creating a butterfly garden that will act as a sanctuary and attract a variety of species takes a little creativity and planning before the planting begins.  Simply choosing plants that flower may increase the number of butterflies that visit your garden but may not be enough to encourage them to stay, lay eggs and populate.  Choosing plants that attract and keep the butterflies coming back is the key focus to a successful garden.  High Tech Landscapes, Inc. creates aromatic and hearty designs for nature lovers of all ages.  We receive many requests to incorporate designs to attract hummingbirds, butterflies and disease fighting insects.  Great color, great aromas and wonderful ideas for an interesting and enjoyable landscape design.
Which plants can you choose that flourish in our New Jersey area?  Here is a list of native nectar plants to use that will attract butterflies to your backyard;
Asters, Beardtongues, Beebalm, Blazing stars, Boneset, Coneflowers, False Sunflower, Wild Geranium, Goldenrods, Hyssops, Ironweeds, Milkweeds, Mistflower, Mountain Mint, Sneezeweed, Sunflowers, Tickseeds
Butterfly gardens can be any size – a window box, part of your landscaped yard, or even a wild untended area on your property.
Make a list of all of the different kinds of butterflies you would like to attract, with the real learning in which flowers and plants they feed and lay eggs on. Adult butterflies will visit for a longer period if they find plants to lay their eggs on. These are called 'Host Plants'.
Consider adding butterfly garden accessories like a butterfly house has slots just the right size for keeping birds out while giving butterflies protection from the wind and weather, and are beautiful garden decorations. You could offer an additional nectar source to supplement your flowers.  Place a ripened banana in an emptied bird bath and you may be surprised how many butterflies visit your garden.  By providing both the food and shelter butterflies need you can prolong the butterfly's stay in your garden and draw in others.
Here are a few of the butterflies found in our New Jersey area: Hawkberry Emperor, Milkweed, Monarch, American Lady and the Common Buckeye.  A butterfly garden can be a great education source for children of all ages.  Enjoy your backyard with simple pleasures for years to come with the introduction of a butterfly garden.