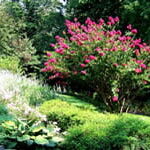 Now that the summer sun has arrived and you may be doing some planting in your lawn and garden, it is very important to know the difference between the types of flowers that you are looking to buy.
This article shares suggestions for annual flowers and perennial flowers and gives you some tips about each!
First off, what is a perennial flower?
A perennial is a type of flower that will grow for three years or more. Popular types of flowers in this category are daisies, columbine, and black-eyed Susan. These kind of flowers often have a shorter bloom period, but will come back year after year with proper care during their growth period.
So, what is an annual flower?
An annual flower is a type of plant that will complete its lifecycle in one blooming season. These types of flowers are most popular in the north and other colder states, because they will grow and bloom, making your garden bright and beautiful for the summer and into early fall, but then dying when the frosts come.
Popular types of annual flowers include marigolds, snapdragons, sunflowers, and pansies. Even though it may sound more difficult to keep re-planting every year, annual flowers are known for their bright colors and eye-catching blooms. Perennials tend to be less colorful, less exciting to look at.
If you are a beginning gardener, you may want to know which are the lower maintenance plants that would still add color to your home. Annual flowers of this type include impatiens and cosmos.
Care for impatiens includes keeping them partial sun or full sun as long as there is adequate watering. Partial sun means less watering to do. They can also be put in any container or hanging pot easily, but it is recommended to place a multitude of them close together! (They tend to grow larger this way.)
Care for cosmos includes placing them in full sun, and they are best in container gardens. The extreme benefit of this annual flower, however is that it attracts butterflies! Perennial flowers that are low maintenance are the liatris and the peony.
Peonies must be planted in autumn in a full sun area. They also need soil that is moisture-retentive. Soil also must be covered with mulch during the winter to avoid damage to this perennial.
As for the liatris, this flower is great, because it will attract hummingbirds to your garden! It is recommended that this flower be grown in the back of the garden however, because it grows pretty tall! This plant really grows anywhere, and grows easily. Note that in order to
avoid choking it is recommended to move and separate this plant after 3 or 4 years.
In landscaping, it really is a matter of visual preference. Over time as you get more knowledgeable, you will learn what flowers are your favorite, and which need the most care. Just know that if you ever have any questions we are happy to help! Happy planting, and get your garden looking beautiful by mixing perennials and annuals! Feel free to ask our landscaping and gardening experts for recommendations.