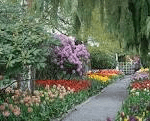 Every season brings creative opportunities in the garden. Spring is an ideal time for gardeners as you get ready for the beauty of your garden to come alive after the winter slumber.  Sometimes the nurturing will feel like a lot of work (sigh….) — but it
is easier to master when you prioritize and organize. Here's what we hope will
prove to be a helpful To Do List.
1. Pruning
Forblooming shrubs such as berries, juniper, and dogwoods, prune as soon as bloomshave passed. This is also the perfect time to prep your roses.  Please note, not all types of roses need to be pruned, other than for clean-up and size control, but if you are going to prune your roses, early spring is the perfect time.
(TIP: Pruning before the leaf buds open causes the rose bush to
put its full energy into new growth. If you are uncertain how to prune roses or
which roses need pruning, touch base with your favorite gardening expert or do
an internet search).
2. Deadheading
Many gardeners do not think of deadheading as an art, but instead as a chore.
Maybe it is more of a chore but, one worth doing since you are tending to your
garden in a most intimate way. To deadhead a flower, you must look at it and at
the plant it is growing on. Notice the plant's health, how well it is doing in
regards to the plants around it and the state of the weed population. This is a
perfect time to evaluate whether or not to leave a seed pod on your pansies or
daffodils.  Consider how you wish to set the stage for how these well known standards in the Northeast will do in your garden moving forward or maybe you want to find room to add some geraniums, orange honeysuckle or something new.  Which leads us to…

3. Weeding
Get ready to get dirty and pull weeds from your beds and borders before they
have a chance to make them their permanent residence and spread.  Enough said about the joys of weeding…
4. Composting
If you piled up lots of organic matter in the fall you may be surprised to find
that it has broken down a bit during the winter.  This material can be used as a great mulch or you can simply combine new material with it and still use it as planned for compost.
Never made compost before? GOOD NEWS! Compost is one of the
easiest (and cheapest!) ways to amend your soil. It's organic matter decayed by
the sun and soil microorganisms. It can be used to improve the overall health
(soil structure) of your earth by adding nutrients and promoting the
microorganisms that assist in soil temperature regulation and improve pH.  And, the task of making compost is easy.  You know you're mission is accomplished when the
pile has become dark brown and crumbly (actual time depends on the environment).
5. Tools
Now is the time to take inventory of what you need for the season.  Make repairs or new purchases (TIP: Garage sales are great source for the budget conscious). Your list should include pruning shears and to find out the best for you – ask your favorite gardening professional.  You will be pleased when you have what you need when you need it (and more so, if you didn't break the budget) when summer sets in.

6. Plant
Time to let your creative juices flow as now is the time to select and add new
plants. (TIP: Be sure, the threat of frost has past and the earth has thawed). Consider trees, shrubs, hardy annuals, and summer blooming bulbs.  And, ask your favorite gardener for suggestions that are ideal for the conditions (sun, shade, dry, moist, etc.) in your garden and region.