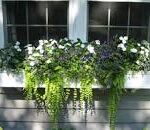 A colorful, beautiful garden on a miniature scale – essentially, that's what you are creating when you hang and fill a windowbox. Windowboxes come in many sizes and styles – shop your local garden center for one that matches your home or ask  your gardening professional to choose one for you. There are wood and metal styles, rustic to sleek and sophisticated.
Once you've chosen your boxes, it's time to choose the plants. The benefit of window boxes  is that they enhance your home with greenery and summer colors – without blowing your budget. All you need is good container potting soil and an assortment of hardy plants and blooms. Some ideas for you, which look very pretty in windowboxes, include:
Pansies
Caladium
Ivy
Holly Fern
Impatiens
Periwinkle
Coral bells
Flowering kale and Sedge work well for a longer life/longer season
It's good to choose flowers that have pretty leaves/lots of leaves, so that when not in
bloom, the box still looks nice and full. Experiment with what grows well in
your window area. Some plants need more sun than others so keep the location of
your windowboxes in mind when selecting plantings. However, another great thing
about windowboxes is the ease with which you can remove a single dead or dying
plant and replace it, without redoing the whole box.
Box gardening, container gardening – these hobbies are becoming more popular. As a
society, we have less space to work with and less time, so confining plants and
flowers to urns, bowls and boxes enables us to enjoy nature's beauty, without a
lot of muss and fuss. Have fun filling your container – get a child or teen
involved. When they plant it, they have more incentive to care for it.
You can get creative with box plantings too. Windowboxes can brighten any eave or dormer. They can line the railing of your front porch or balcony – or line the fencing
around your backyard or deck. Take a walk around the outside of your home and
look for dull or drab spots where a hanging box or hanging planter, or a plant
stand holding a large bowl or plant pot would look attractive and add some
color. Kick it up a notch by adding a small box/planter on or beside your
mailbox stand, that matches the planters on the front of the house.
Window boxes typically need watered just once or twice a week. Depending on plantings
chosen, you may want to add plant food pellets or spikes. Ask your local
professional how to care for and feed the plants you've chosen. At HighTech
Landscapes, we welcome all questions and are happy to help you choose plants
and flowers for your home. We are New Jersey's landscaping choice, based in
Branchburg, NJ. We know what plants thrive best in this area.