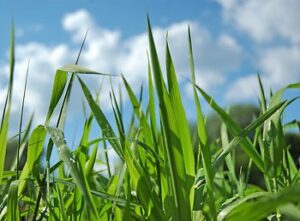 Whether you are planting a new lawn or redoing/improving your current lawn, you will have some choices to make. If you have struggled with your lawn it could be because of the type of grass that you currently have. First we will talk about planting a lawn and then share with you some of the different types of lawn grasses available. Your local landscape professional can advise you on how to best create a new lawn and how to maintain it for optimum quality. Your lawn can be a thing of pride – and how nice is it to sit on a sunny day looking out over a lush, green lawn that you nurtured?
You can seed a new lawn, which is the traditional method and has the lowest cost. If you are covering a large area, this is most likely your best choice.  When seeding a lawn, you want to choose a good quality seed. You'll also have some preparation of the ground before seeding. We will cover seeding a lawn in a future article.
You also have the option of laying down sod. Sod costs a bit more. You are putting down large pieces of already grown grass with earth attached. Again, there is preparation of the ground, usually with a roller to flatten and level the earth. You want to remove all rocks and debris before laying down the sod patches. The advantage here is how quickly your lawn is in place—you basically get "a lawn in a day".
Whether seeding or sodding you will need to choose the type of grass for your lawn. There are dozens of types in existence –  here we share those that are best suited for the Northern United States.
Kentucky bluegrass (Poa pratensis). In the northern U.S., this is the most popular, most commonly used lawn grass. Thick and hardy.
Bent grass, creeping (Agrostis stolonifera) Tightly knit and fine textured, and ideal for golf courses and especially putting greens. Some varieties are: 'Penneagle', 'Penncross', and 'Seaside'.
Blue grama grass (Bouteloua gracilis) This grass is native to Northern America and is tolerant of dry conditions. It is very tolerant of cold and so ideal for the Northeast.
Ryegrass, perennial (Lolium perenne). Dark green in color with a fine, soft texture. This grass is usually combined with Kentucky bluegrass and fine fescues
Zoysia grass (Zoysia species) Different species available: Japanese lawn grass (Z. japonica), Manila grass (Z. matrella), and Korean grass (Z. tenuifolia). Korean grass makes good ground cover.
Fescue, tall or broad-leaved (Festuca arundinacea). Tough and coarse, with varieties such as 'Kentucky 31' and 'Alta', Has a natural, built-in pest repellent.
How much watering and mowing these grasses need obviously varies, so ask your lawn professional before making a selection. Enjoy your new lawn!