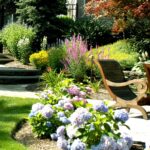 Maybe you are planning to sell your home. Or maybe you are just tired of the same look when you pull in the driveway. You can give your home a fresh look – a "facelift" if you will, without spending a lot of money. Improve what realtors call "curb appeal" with these tips we share below. And remember, when your home looks better – you are happier. (So is a potential buyer.)
The Porch-Does your porch need painted? Strip it, stain it, paint it – give the kids a project, enlist the family's help. When a group of people tackles painting or staining a porch or deck, it's not a daunting task. It will go faster and everyone can enjoy the effort. Play music, whistle while you work, and reward the gang with a pizza party or some other treats when the job is done! Don't have kids to help you? Spread the word around your neighborhood or among friends and find a college student or two that could use some cash. They will accept much less pay than a specialized company to do the same job. And you're contributing to their education! You may also find that someone in your circles is out of work, and would love to help with home improvements for a low price.
Another way to spruce up the front porch – hang a windowbox or two! Your landscape and garden expert can suggest the best plants/flowers for the boxes, to have nice looking windows all year. In wintertime, you can add greenery, pine cones, battery candles, fake fruit or vegetables and other decorative items that keep the boxes festive and colorful when the flowers can't bloom.
An Arbor
Find a spot in the front yard, side yard, or near the front porch or entrance to place a trellis or arbor. These can be purchased from your home and garden supplier. Your landscaper can plant the right viney plants to take hold and spread over the trellis or arbor – possibly a blooming vine if that's what you prefer. These look lovely and add instant appeal to a "blah" or barren area of the yard.
Line the Driveway
What's along your driveway? Dirt? Pebbles? Nothing? Have your landscaper place some nice edging along the drive that you pick out. Or if you are a do-it-yourselfer, purchase it and have at it! You can also place mulch or some type of rock or pebble along the edging, making a 'row' as wide as you like, then place edging on the other side.
Want to add some color?  Every 5 or 10 feet, add a large potted plant or shrub. This method of lining the driveway makes it look very nice as you approach your home and pull in. Pavers, bricks, and uncommon types of mulch or ground cover can also be used. Need ideas? Not sure what to put down? Ask your landscaper.
In an upcoming article, we'll share even more ideas for improving curb appeal AND creating an inviting back or side yard area. Until then, happy planning, painting and planting!