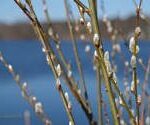 The front porch and entryway is the place where your home makes a first impression. Let's get this important asset to your home shined up and ready for the festive season, with visits from friends and family!
Replace old hardware
House numbers, the entry door lockset, a wall-mounted mailbox, your doorbell plaquard, and an overhead light fixture are all elements that can add style and interest to your home's exterior appeal. If any of these things are out of date or dingy, your home may not be conveying the aesthetic you would like. These elements typically add the most appeal when they function collectively, rather than as mix-and-match pieces. So replace one or all of these features for an instant front-of-the-house facelift! Also, clean off any dirty spots around windows, doorknobs, lightswitch plates, and other apparatuses. Use metal polish on the door fixtures or even the hinges. Oiled-bronze finishes suit traditional homes, while brushed nickel suits more contemporary ones.
Apply a fresh coat of paint
Make a statement by giving your front door a blast of color with paint or by installing a custom wood door. For bare wood, use a primer. If it has been painted, lightly sand the surface to improve adhesion, making sure to scrape and spot-prime peeling areas. Your entry should also reflect the home's interior, so choose an overhead garland or a wreath that reflects your personal style, picked up at your favorite lawn and garden store! (wink wink)
Use color
Create a big impact with your fall displays by using contrasting and complimentary colors. Stick with cool colors, like blues, purples, and greens, to complement different shades of red, orange, and yellow leaves. If decorating with fall foliage or greens, add some color that contrasts the color of your house.
Accent your walkway
Here's an inexpensive outdoor idea that's also a cinch to execute. Simply layer a stocky glass vase with faux-snow and real cranberries (or fake, if you're worried about animals). Tuck in a pillar candle. Align your walkway with fir bundles topped with these pretty luminaries that are easy to make. Pick up some pinecones and they too can be placed in glass squares or cylinders with faux snow and a battery-operated tealight or votive.
Create perfect symmetry
Symmetry is not only pleasing to the eye, it's also the simplest to arrange. Symmetrical compositions of light fixtures and front-door accents create welcoming entryways and boost curb appeal. A door flanked by two sidelights or lantern-style sconces not only safely guide visitors to the door, but can also be coordinated with the door hardware and matching urns placed in the corner or on either side of the door. Urns can be filled with cinnamon brooms, pussywillows, or other branches, silk or real.
Install outdoor lighting to welcome visitors
Low-voltage landscape lighting makes a huge impact on your home's curb appeal while also providing safety and security. Fixtures can add accent lighting to trees or the house or can illuminate a walking path. If you aren't able to use lights that require wiring, install solar fixtures (but understand that their light levels are not as bright or as reliable).
Conceal that unsightly air conditioner
Plantings conceal the unit and also help save energy by shading the air conditioner's condensing unit for part of the day when the sun is shining. You can use low-care plantings that look great and don't take up a lot of time. Incorporate hearty plants with shrubbery, which your friendly landscaping professional at our store will gladly recommend! You want to make deer-resistant choices.
Don't forget the mailbox
If your box is out front on a post, consider a new post, or give it a fresh coat of paint. Maybe it's time for a new mailbox! Don't forget to add a festive bow that can share cheer from Thanksgiving through the New Year!