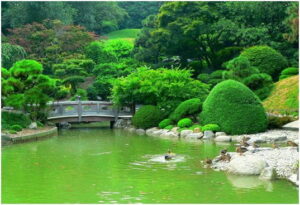 Where can you find ideas for creating your own backyard oasis?  Look no further than the gorgeous gardens of our local area.
Take your camera, pack a lunch and get outdoors and get inspired by the majestic beauty New Jersey and New York gardens have to offer all Summer long.
Visit the National Historic Landmark over 250 acres large- The New York Botanical Gardens. Founded in 1891, these gardens are a feast for the eyes and imagination.  With natural rock terrain and cascading waterfalls, ponds and even wetlands around every corner, take pictures of the colorful plantings, collection of orchids and how the grass hugs the planting areas.  Compiling a pictorial personal inventory of your outdoor adventures is a great way to get started with a new feel and look for your own landscaping dreams.
There are 27 specialty gardens at this Botanical site and over 40 acres of unspoiled forest to sit and admire.  Your visit can not be complete without exploring The Enid A. Haupt Conservatory.  If you haven't been in a while, revisit this Summer and you'll remember why so many movie sets have filmed scenes over the last 100 years. Glass pavilions recount London's Crystal Palace with tropical and subtropical plantings.
Or visit Bethesda Terrace also in Central Park with some of the most breathtaking views of the Central Park Lake and the unspoiled deep woods throughout the area.  Checking out the history of these parks, the lush tree and variety of vegetation can help anyone get inspired with developing a plan to incorporate color, lighting and texture to a backyard. Building a home away from home in your backyard is what we enjoy doing best.
A little inspiration goes a long way-take High Tech Landscapes along for the journey.