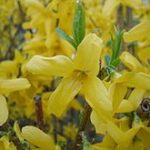 Worried about getting low amounts of rain this summer? Maybe you despise dragging out the garden hose. Well, we can give you some tips for having a garden that can handle the heat – and dry soil. Let's start by suggesting what you should plant.
Try some Sedum = a flowering plant coming in many varieties. They actually have leaves that store water, and five-petal flowers. They are very attractive, and known for their hardiness. Some are more heat-tolerant than others, so ask your landscaping professional.
Belonging to the family of flowering plants known as Euphorbiaceae, there are an amazing
2008 species of Euphorbia. This is a very large and diverse group of plants found in tropical regions but also found in temperate zones worldwide. These can bring a lot of beauty to your summer garden but of course when the weather cools, they will wither and die. They are quite succulent and hold water well.
Now if you want hardy and pretty and no muss no fuss, plant some Feather Reedgrass.
This tall plant (reaching as much as 5 feet high) will produce teeny flowers in early summer and then you'll see the seed heads turn brownish-gold in the middle of summer. Too late for this year but keep this easy-maintenance plant in mind for next year. Even in winter, the tall and wide cluster of grass looks ornamental, almost architectural. It's very straight and the clusters of tall grass remain attractive to look at on into the early autumn.
People like reedgrass for a border effect, even privacy. They can handle plenty of
sun. There are other grasses that need little water and look nice on the lawn –
do some browsing.
Have you heard of California lilacs? These are shrub-like but very beautiful. They
bloom in late winter or early spring. They grow best in dry soil. You must put
them in a well-drained area, and ideally, they need protection from high wind.
They are colorful and a great addition to a draught-resistant garden.
When it's hot, your plants do need more water than when it's not. If temperatures
are climbing above 85 degrees, you need to check and water your plants a bit more frequently. Make it easy for yourself – keep watering cans and hoses ready to use, easy to get to.
You can always try water globes and experiment with how much watering your plants
need. Certain pots and soils hold water better than others – your landscaping professional / garden center professional knows best. Many plants can survive
for a couple weeks or even a month without water. So if you know yourself and
you know that watering regularly isn't your strong suit, consult with a pro and
buy the right plants. You can stay green and colorful even if you're dry!