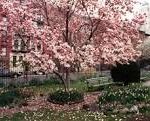 Despite the harsh winters throughout the northeastern region of the country, there are an abundance of plantings that are robust in color, of all shapes and sizes, that thrive despite their location.   They range from towering trees, bushes, and ground covers to blooming and flowering plants. And, unlike more  tender garden flowers, Northeast natives are very cold tolerant.  These native flowering plants and trees survive even frigid winter conditions.
Native Flowering Vines
The Ground Nut (Apois Tuberosa or Americana) grows from 15 to 20 feet and spreads 4 to 6 feet in late spring or early/mid summer.  It likes sun to partial sun and develops pinkish-lavender and maroon flowers, which form in clusters that are attractive to hummingbirds and butterflies.  The flowers are fragrant. Please note, this plant may be considered a protected species; check before digging or gathering
seeds.
Woodbine (Clematis Virginiana) grows 12 to 20 feet and spreads 3 to 6 feet from August through October with full sun to partial shade, and blooms with fragrant white flowers in late summer through early fall.  If given support, it will climb rapidly with the aid of tendrilous leaf petioles to 20'. Without support, it will sprawl along the ground as a dense, tangled ground cover.
Native Flowering Trees
Magnolia are beautiful flowering trees that produce 3-to 4 inch-wide pinkish, white blossoms each spring. These trees grow best in acidic, well-drained, moist soil with either full sun or partial sun exposure. Magnolias can grow up to 30 feet tall and have an average
spread of between 15 and 30 feet wide. They are relatively slow-growing trees
that can take up to 20 years to bloom from the time you plant them. Gardeners
recommend pruning these trees in late summer and late winter to avoid sap
bleeding and ensure a healthy framework.
Pagoda Dogwood is named for its horizontal branches that resemble a pagoda. It produces creamy-colored, yellowish white blossoms that give off a sweet aroma. The pagoda dogwood also produces berries that feed a variety of Northeastern bird species and other
animals. This tree will grow up to 25 feet and survives best in cultivation
zones 4 through 8. Though the pagoda dogwood will survive in partial sunlight, it
thrives and produces the most blossoms with direct sunlight. The tree prefers
well-drained, slightly acidic soil. Other common names for the pagoda dogwood
include pigeon berry and alternate-leaf dogwood.
Native Flowering Shrubs
Buttercup winter hazel (Corylopsis Pauciflora) has clusters of dangling yellow flowers that appear in early spring and last for about two weeks in cool weather.
Buttercup winter hazel is a small shrub, spreading to about 4 feet tall
and wide. It has small, beautifully pleated leaves and a rather delicate
appearance, but it is a tough shrub. Plant it in part shade.
Azaleas are spring-bloomers that put on a dazzling show every year in the dappled light under tall trees. One in particular, the Pinxterbloom azalea (Rhododendron Periclymenoides), is a deciduous shrub known for its white, pink, or violet flowers in early spring. This native azalea grows naturally on the banks of streams and in woods, and
looks very pretty under trees in woodland gardens. It grows up to about 6 feet
tall and is amazingly drought-tolerant.
Native Flowering Plants
Wild Anemone (Anemone Canadensis) is an easy-to-grow, easy-to-love plant that thrives in moist soils rich in organic matter. Its large white flowers are a highlight of the spring border. A vigorous groundcover, it can happily fill in a large space within a growing
season. It likes shade to partly sunny and well-drained soil.
The Common blue violet, or common meadow violet (Viola Sororia), is the state flower of both Rhode Island and New Jersey. This flower grows in the moist soil of woody areas in the Northeast, and the plant grows up to 6 inches in height. Its purple flowers bloom from
April through June.
New Jersey is home to all of the above, and if you are interested in knowing more
about any of them, to consider enhancing your own lawn and garden, just ask
High Tech Landscapes of Branchburg.