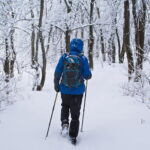 Let's face it—cold weather and snow make us want to stay indoors. Sometimes it seems like a shame to have a big yard, front porch, or outdoor courtyard—and only use them in warm weather months.
Here we share some ideas for enjoying the outdoors in cold weather and some cold weather activities that can bring couples or families together.
BUNDLE UP AND TAKE A HIKE
Invite your significant other, spouse, and kids if you have them – to take a walk and admire the winter scenery. Take photos of the snow on the trees. Try to capture a picture of a bird, rabbit, or some other winter scene like kids making a snowman. You can make a photo contest out of it and have a prize for the best photo – allow the group to vote on a winner.  You can enjoy a walk out in the countryside or in the town square – just drive to a place that has the scenery you are looking for, if you don't want to walk near your home.
PLAN A FRONT PORCH PICNIC OR COOKOUT
String some lights on your porch or leave the Christmas lights up for an extra week or two. Bring out the camping lanterns or flashlights and candles. You can do this just with your family members or invite the neighbors—remember—they may be suffering from winter cabin fever as well and may be happy to be invited!
You can make it a potluck meal, so everyone just brings something. Place a tarp or plastic tablecloths on the floor of your porch or deck with sleeping bags or blankets on top. Throw some pillows out there, too. Let everyone sit around, eating and drinking and enjoying the crisp winter air. If the stars are out—even better. If someone feels spunky enough, they could fire up your grill. Nothing beats the smell of a charcoal grill cooking burgers or barbecue chicken on a cold winter night. You could also sit around a chimenea –  burn the small fire starting sticks to make a little flame inside it or just place several candles in it.
PLANT A WINDOWBOX
A fun project is to give each member of your family an empty window box. Get some potting soil and a variety of plants and flowers. Let each of them get creative with what they want to put in the window box. They can even decorate it for the season. During the cold weather, sit the boxes on the window ledge indoors. Then when the weather warms up you can move the window boxes outside.
YARD GAMES
Yes you can enjoy your lawn in the winter. Throw the football! If you have a two-story home, send everyone upstairs to look out the window while one or two members of the family draw something on the lawn in the snow, using their feet. See how long it takes you to figure out what they are drawing. Depending on how big your lawn is, you could have a competition and pick the best snow drawing. Or do it over the course of several weekends and take pictures of each drawing in the snow. This is a nice way to still use your lawn even in winter.
As these ideas demonstrate, the outdoors don't have to be off-limits in winter months. As long as you dress appropriately and don't allow yourselves to be out in the cold too long, you can have some fun with winter weather and enjoy quality bonding time with loved ones.