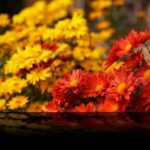 For many people, autumn is their favorite season. This can be a really fun time to decorate your yard and, if you like, your front porch. It doesn't have to be just about Halloween. With the right fall landscaping, plants and flowers, you can create a beautiful autumn look that will roll perfectly right into Thanksgiving.
One idea is to place a couple of hay bales on the front lawn. Purchase potted mums in fall colors and set them on the hay bales with pumpkins and gourds. If you have room, you could put another hay bale on the porch to place your jack-o'-lantern on, or just an assortment of colorful gourds and pumpkins. Do you have some trees with pretty fall leaves? Trim off a few branches, tie them in a bundle and place them on your mailbox post or the post of your outdoor lamp. Use bright, autumn-toned ribbon to tie a bow around the branches. You can also do the same thing with cornstalks, which you can sometimes purchase from a local farmer or your home and garden store.
Do you have some leaves to rake? You could rake them into a big pile and then place a ghost or a scarecrow popping his head out of the leaves. Or maybe a skeleton. Another eye-catching way to use pumpkins is to line your driveway with small ones or place two large ones at the end of your driveway. Still another decorative trick is to create a little hay wagon. Use your child's wagon. Gather the dried grass that you probably have around your lawn and place it in a heap in the wagon to look like hay. Of course it could blow away so you need to put a couple of gourds or pumpkins, or something else, in the wagon to hold the hay in place.
Adding small plants and flowers can give your front steps or porch a nice Autumn warmth. Ask your landscaping professional to recommend hearty fall plants that can remain outside through November, or colorful flowering plants that could be placed in your window facing the front lawn. You can also paint regular terra-cotta pots in fall colors like shades of brown, shades of orange, yellow and gold, dark red. If you are a little artistic, you can also paint a maple leaf or other fall scene on the pots. This can also be a great project for your children and their friends. Pinecones can be placed in a rustic looking basket and sat on your front porch. You can spray the pinecones with gold metallic paint or any fall color if you like. But they look pretty just the way they are. You might even have pinecones around your lawn that need picked up anyway!
You can make a wreath from pinecones and be ready for Christmas! You can even scatter leaves all over your porch floor. You don't need to have new items for a lovely autumn porch. You can use things that are old, weathered, rusty—you might even find these things in a thrift shop or antique shop. Even just a pitchfork leaning in the corner of the porch with a little mound of hay beside it can be a nice touch. You could also place a pitchfork in or beside a bale of hay on your front lawn.
A cluster of colored Indian corn can be attached to your mailbox or mailbox post for another splash of autumn appeal. Look around your lawn—walk it with your spouse or children and be creative. Look for anything you could use in a decorative way, just by tying it up, placing it in something, gluing it or painting it. You'd be surprised what nature provides that you can use to decorate with! Have fun!