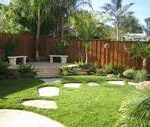 Most likely, everyone has a different vision of what the "perfect landscape" is. To that we would say the only requirement is that it needs to be unique to you and be something that YOU like! Your home is your castle.  No matter the size,  no matter how modest or grand, the space around you affects your quality of life. Now may be the perfect time to create the perfect surroundings for you /  your family.
There are so many different attractions and visual elements that can be incorporated into your space. You can be a minimalist, or go big! Not sure how to begin? Here's a good way to begin the process…Think of  landscaping as "PLANT!" Plan-Labor-Aerate-Nourish-Trim.
1. PLAN
First, know yourself. Do you want to have
to clean up leaves and trim bushes weekly? Would you prefer a low maintenance
outdoor space? Not only that but would you wish to have a special garden or a
pond to add interest? A professional landscaper can help you with these options
in a simple consultation that could make all of the difference!
Now before you go getting overwhelmed, you can start with the basics. The building blocks. Many designers and planners will tell you to picture the big items. The main areas of sight such as a tree, your patio, or larger plants that you have and want to keep. Now you can enhance them by surrounding them with a ring of smaller plants or shrubbery. Or
strip the dirt bare around them and add gravel and one statue. It really is up
to you! The initial visualization stages are important, and you should sketch
it out. If your home and project are large, have your landscaper draw it up for
you.
2. LABOR
Once you have a plan, you now need the work to be done. For many this stage can be the toughest. Let's say you'd love a patio in your backyard, but you need to move dirt and flatten the area to get one. Maybe you have to erect a fence, or dig out an old stump. Do what you can on your own, but be realistic.
Anything beyond basic landscaping most often requires assistance from a professional, and someone to come in to do the grunt work, if you are a busy working professional. Patios, ponds, deck projects need a certain level of expertise. Plan your labor time and costs accordingly.
3. AERATE
Aerate in this use means, "clear the area". Open up your space so you have a more
blank canvas to start with. Remove the debris from the ground to begin laying down the gravel, sod, or native grasses that you've chosen. Consider your soil type back in the planning stage. Ground cover looks great, it's an instant way to make a bare or drab area look nicer.
4. NOURISH
Now that your grasses, plants, trees or shrubs are in place – there is some care
involved. Whether you went with two big potted plants and the rest of the area
is mulch, or you planted a dozen bushes and a row of flowers, you have to
nourish them as needed, with the right amount of water and the occasional food
or fertilizer. Read the info that came with your plantings, or ask a gardening
professional.
5. TRIMMING-
Trimming in this article not only means that you may have to trim something back once in a while, but also, it means "applying the final touches" to your ideal landscape. You may enjoy decorating your overall outdoor space! Consider adding finishing touches such as: lanterns or lights, furniture, stepping stones, crystals or prisms, wind chimes…or whatever else you like to have around you! Be creative and be sure to play off the overall look and feel of your home. After spending all of this time improving your outdoor area, you can then reap the benefits – sit back, relax, and enjoy! (Have a friend come over to admire your work!)
Contact High Tech Landscapes in Branchburg to begin your initial consultation and planning process! We can assist in any of the areas described above. After all, it is never to late to have the escape you always dreamed of right outside your door!