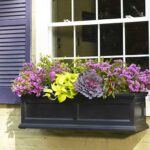 Nothing brightens a drab area or the front of your home like an array of colorful flowers and green plants. Window boxes are a fairly simple and popular way to beautify the outside of your home. In a separate article, we gave you ideas for what to plant in your window box. Miniature roses, pansies, English ivy, impatiens, geraniums —  you have many choices.   You can always ask your landscaping/gardening professional to recommend plants and soil that's right for your home and the location of the box itself. In this article we will help you create your window box.
First you have to either build a box or find one to use. It should be wood and you can paint it to match the exterior or the trim of your home. You could use metal but it must be a good strong quality metal that will not easily rust. You also need to make sure that the box is deep enough to hold enough soil so that the plants can establish a good root base and have enough room for their roots so that they grow well, and look vibrant and healthy. If you do make one from wood, 1 inch is the ideal thickness. Whatever box you use, drill holes in the bottom to allow water to drain through.
This may sound obvious but make sure your box hangs well below your window if your windows open outward. Be sure to use strong brackets and proper screws because once the box is weighted down with soil and plants it could be quite heavy. If you think that you are going to change the plantings in your box two or three times a year, you may want to place a lighter plastic box within the wooden box. This way you can lift a plastic box out, replant it, and put it back in place under your window.
Choose a rich potting soil, ideally one that has fertilizer already in it for several months of growth. You can of course use plant feeding spikes to give your plants and flowers a boost. Most people like to have some plants growing upward out of a window box and some that hang down… trailers. One solid color with a bit of green can look sharp, and multiple colors look beautiful as well. It is in the eye of the beholder—or gardener!
After planting your flowers in the window box and packing the soil around them, you may want to add some moss or bark overtop—just a light layer. It is important to water your plants regularly, with the frequency depending on the amount of sun that your box receives. Some people like to stick a small decorative item in the window box such as a ceramic or metal butterfly or dragonfly on a spike. These are easy to find at home and garden stores.
Of course when wintertime comes, an empty box doesn't look so attractive. Get creative and place seasonal ornaments or decorations in your window box. Silk poinsettias, dried flowers, or candles enclosed in pretty glass lanterns are all options. We have even seen a window box full of Christmas bulbs with red ribbon laced around the box.
There is no doubt that once you have a window box, not only will you enjoy it, you will receive compliments on it as well. Happy planting!