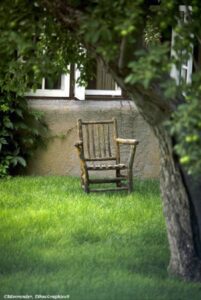 So you have landscaped your garden or lawn, and you have probably created a patio area. Now it's times to add garden furniture or patio furniture. Choosing outdoor furnishings isn't always easy. Here we share some tips for selecting lawn and garden furniture and decor.
The right garden or patio furniture will complement these areas—not clash with them. Consider that you want your furniture to appeal to both men and women. But you also want them to reflect your style. On top of that, you want the furnishings to go with the style of your lawn and garden. If your garden is full of bright colors—flowers and flowering shrubs–then brightly colored furniture and accessories are fine, but you don't want overkill. You don't want too many clashing colors, so keep color schemes similar and limited.
If your lawn is on the drab side and neutral, the tendency is to choose drab/neutral furnishings. However, this type of setting needs a splash of color, so go with something a little bit bold—a slightly brighter color that will accent what you already have. Are you a modern person or more traditional? Think about the furnishings in your home. The patio and lawn are an extension of your home and so if you are conservative and traditional inside, that theme should continue outside. If you like modern stuff (think Danish design), then don't hesitate to look for outdoor furnishings in this same contemporary style.
But there is more to consider when choosing outdoor furniture than just the look of it. Take a moment to talk to your family, kids, husband or significant other about how the space will be used. There are few things that are more of a shame then seeing an outdoor seating area or recreational area that never gets used. What do you like to do—do you sit in the sun to get color on your skin? Or do you sit in the shade and read a book? Do you like to play games outdoors, cook outdoors, or just serve outdoors? Do you need a coffee table or is that unnecessary? Do you have younger children that would like something that moves—that glides or swings? Do you envision picnics in the backyard and so a picnic table would be a nice addition, or do you want soft comfy seating? Rustic pieces like Adirondacks or sophisticated, lounge-style pieces?
There are many things to consider, and people often do not take the time to do so. Rather, they purchase their patio or lawn furniture on impulse. They see something in a store that appeals to them and they bring it home. This is why you have these seating areas and other things like fountains and swings and benches that go unused. In today's tight economy, you can't afford to spend money on things that you will not enjoy. So talk to your spouse or family or friends and make notes about what would be best for you. Fire bowls and chimeneas are very popular now and depending on where you live can be used for most of the year. Another popular feature is to have a somewhat formal dining area outdoors—maybe a high pub table with four barstools for outdoor dinner parties and cocktails.
Let's consider materials: you have metal, wicker, rattan, bamboo, wood, teak, and resin/plastic. Some of the new plastics look and feel very much like wicker or wood and it is not distasteful to purchase these items. They can cost less and still look nice for years to come. If you choose metal, you want to keep this furniture in a covered area where it is at least partially protected from rain or snow. Obviously the more you invest in your lawn furniture, the longer you want it to last. Check back for an upcoming article on how to protect your lawn furniture and keep your outdoor furnishings and décor items looking good as long as possible.
Last but not least, you should consider your own habits and schedule. If you are an extremely busy person who rarely has time to work in the yard or maintain the garden, then you do not want to purchase furniture that requires maintenance—such as teak furniture that you have to oil every six months, or steel and wrought iron furniture that will need to be painted once a year. While considering what materials are best for you, you also have to factor in comfort, so be sure you actually sit in or lay on the pieces you are purchasing, if at all possible. If ordering online, look for consumer reviews that mention comfort. Best of luck in choosing the ideal furniture for your outdoor spaces. If you have any questions about furnishings in our local area, please do not hesitate to call us at 800-406-6420.