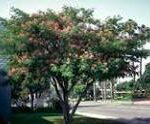 We love the summer sun, with the way it makes things like swimming pools, lemonade, and wildflowers enhance our summer days. But sometimes, it's too hot, and we seek escape from that same sun that we love! If you want to make your backyard, front yard, sideyard, driveway or walkways – any area of your home – more shady, read on for tips from HighTech Landscapes, your lawn and garden professionals.
Most people like to do pockets of shade – having a mix of sunny and shaded areas. Here we share several ways to add shade to various spots around your home.
Towering trees are great for shading large areas. An
example of a large shade tree would be a fern-leaved Catalina Ironwood, which
grows 45 to 55 feet in height and can be placed in the center of the yard to shade
a large lawn area, or beside a patio or deck to shade a certain seating area.
Crimson King Maples have a gorgeous maroon color and also grow 40 to 50 feet
and provide good shade. These trees like all types of soil so you can plant
them just about anywhere – they are an easy to grow, adaptable tree
If you want a tree that grows quickly, we suggest the Silver Maple. But it does spread and can be considered a nuisance tree by some, so look into fast growing options. We'll share those in an upcoming article.
Another good shade tree that is medium sized for shading slightly smaller areas would be a Muskogee crape myrtle or a Mimosa Tree. Mimosa trees are rather uncommon but they are lovely ornamental trees that attract hummingbirds. They grow to a height of 20 to 35 feet. Note that the first couple of years, branching is light, but they gain many branches as
they age. Mimosa trees are considered easy to grow, and drought tolerant.
To shade a small area, consider erecting an arbor. These are a lovely visual focal point and can be planted with a beautiful winding vine such as Wisteria or Honeysuckle. An arbor covered with colorful blooms and thick leaves not only looks lovely to the eye but is a nice source of shade. Ask your landscaping professional to help you choose climbing, blooming plants for an arbor or trellis, and explain what coaxing you may need to do to get
them to grow the way you wish.
To shade a walkway, you want plants and shrubs two to four feet in height. You can achieve a uniform look using all of one shrub, or mix and match. You have to consider both the soil and the amount of sunlight when choosing the plant to line a path or sidewalk, so this may be time to ask your landscaping advisor. A good hardy choice is Boxwood, and others are Spring Heath or Buttonbush. Decide in advance if you want just greenery, or a blooming border for your pathway.
Add some plantings and beat the heat! Call High Tech Landscapes – central New Jersey's choice for gardening.