After giving thanks and embracing the many festivities of fall, it's officially time to bring out the holiday décor.
While you turn your home's interior into a winter wonderland for the family to enjoy, don't forget that you can also spread holiday cheer far and wide throughout your neighborhood by decorating the outside of your home! Your neighbors and guests alike will appreciate your holiday spirit when you incorporate any of these five décor ideas into your landscaping.
String Lights Around Plants and Pathways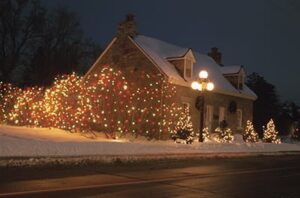 It's common for homeowners to string Christmas lights along their gutters and siding, and we have to say that a home wrapped in bright colors or twinkling icicles never gets old. But why not get a little more creative with your lights? String them around plants, shrubs and even pathways to bring out your home's unique character.
Fill Planters with Custom Winter Arrangements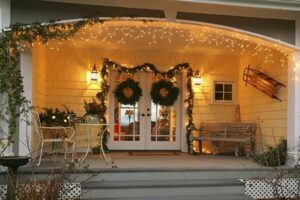 Hopefully you've brought any summer and fall plants indoors for the cold weather, which might have left your yard feeling rather bare. If you have empty outdoor pots (or are so stoked for the holidays that you want to go out and buy new ones), it's not hard at all to create your own custom arrangements with evergreen branches, holly, winterberry and other seasonal items that will add an extra touch to your curb.
Drape Garland Over Railings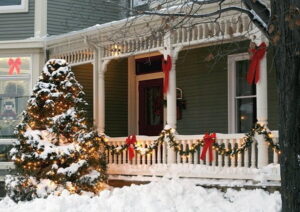 Garland is one of the easiest winter decorations to work with, and it looks beautiful when twined along railings. Use it to bring a festive yet polished aesthetic to your porch, deck or doorstep. Too easy? Create your own pattern of ribbons, lights or ornaments!
Use an Unexpected Color Scheme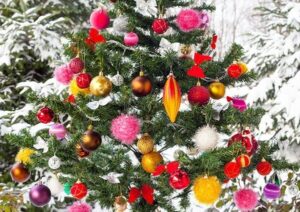 Red and green are the tried and true Christmas colors, followed by gold and silver. But, some of the most intriguing displays use non-traditional color combinations to reimagine holiday décor. Shades of royal blue, teal and violet are especially eye-catching. HGTV offers ideas for color schemes here.
Add Props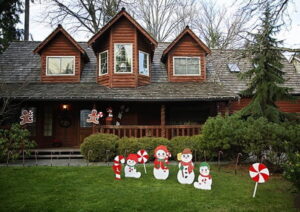 You don't have to have the largest, jolliest inflatable Santa Claus to create a fun holiday scene. Simple supporting items like firewood, candles, a toy sled or just about anything you'll find at your local craft store this time of year will go a long way in completing a memorable outdoor holiday display.
Bringing Your Vision to Life
Do you have something more elaborate in mind for your landscape? Maybe a renovation, redesign or addition? High Tech Landscapes is New Jersey's premier landscape architect offering an array of residential landscaping services. To learn more, call us at 732-564-7370 or email us at info@hightechlandscapes.com